Into the History
by Johnna McEntee
18th Century Cloaks – Part I
According to weather experts, a "Little Ice Age" was taking place from about the 16th-19th centuries, making winters even colder for our counterparts in the past. We've all seen the painting of George Washington crossing the Delaware on Christmas of 1776 with icy chunks bashing against his boat—the General looks stoic, but you can see that it's cold. In the winter of 1780, New York Harbor froze over so completely that people could walk back and forth from Staten Island to Manhattan. That's cold.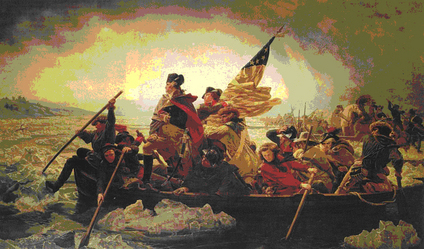 Picture Caption: Washington Crossing the Delaware, Leutze, Emanuel (1851)
For those who have participated in winter camps, you know there is no escaping it – no matter how close you sit to the fire or how much you stoke the stove, some part of you is always, somehow, still frozen.
Enter the 18th century cloak: cold weather gear sturdy enough to brave even the most bitter New England winter.
In the 18th century, a "cloak" was the name for the outer-garment, which could be a shorter, hip-length garment or a longer, full-length version. A "cape" in the 18th century was the name for the modern-day collar, or a smaller, shorter piece of fabric over the longer layer that covered the shoulders (see General Washington's cloak for an example of an attached cape in the painting above) . As cloaks became shorter and shorter and multiple layers of capes were added to the garment, the terms "cloak" and "cape" came to be synonymous.
-Part II of this short, three-part series, will look more into cloak color popularity.-